Retraite / studiebijeenkomst
The Ocean of Kindness
woensdag 20 juni 2018 om 16:00
zondag 24 juni 2018 om 12:00
Elmer Koole
0594549863 / 0503164875
elmerkoole@gmail.com
eur. 280,- (incl lunches, dinners and refreshments)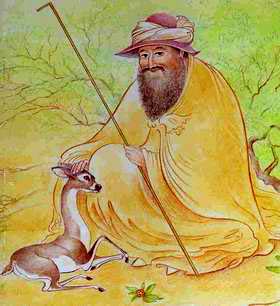 Recognising that the emptiness of the universe is our emptiness,
and the body of the universe is our body,
the way of kindness appears by itself
Pir Elias Amidon

In this retreat we will explore how kindness naturally arises in the tranquillity of open awareness through silence, friendship, musical meditations and zikr, poetry, deep conversation (sohbet) and other experiential Sufi practices. We will explore the immanence of naturally-occurring, universal, unconditional kindness and we will practice kindness towards ourselves, others, the world and beyond.

Early booking recommended; bursaries available

Omar & Suzanne Inayat-Khan are experienced Sama (Sufi musical meditation) and Local Circle leaders within the Sufi Way, a contemporary Sufi path with non-dual teachings, dedicated to nurturing a mystic awakening through direct, personal experience..
Elmer Koole has been a member of the Sufi Way since 1976 and has facilitated a variety of programs related to music, Islam and out-door quests. He is currently completing his training as a Vision Quest guide.

accomodation: The venue is non-residential. This early notice is to enable intending participants to arrange accommodation and travel bookings. Local camping, hotels and B&B guesthouses are in great demand in the summer months.